Before I go through the costs of my first flip, I need you to know something…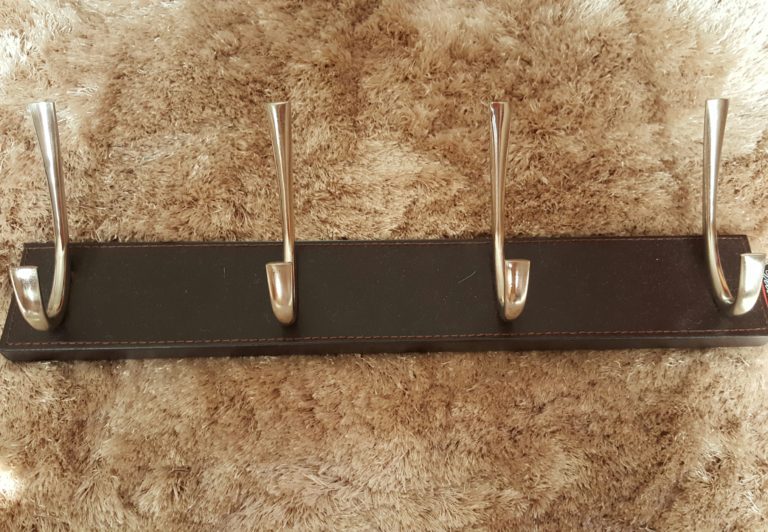 I still have these coat hooks lying around my bedroom floor. I have no clue how to put them up. Zoom into the picture. Can you see the dust on them?! Yeah, that's how long they have been there for.
So how did I do a full blown house refurb, within budget, while being so incompetent?
It is like those clever people say "I don't need to know how to do it, I just need to know someone who does."
The property is an end of terrace in Coventry. It is a 3 bedroom house with one bathroom, one kitchen, an open plan dining room and lounge.
Prior to the purchase I took three builders round and got three quotes.
Quotes varied from £12,000 (+ cost of the kitchen which we agreed I would deal with) to £32,000. Mad isn't it? A £20,000 difference.
One of the quotes was from my usual handyman in Coventry (who is actually so much more than that title would suggest, but anyway). We have a good relationship and most importantly I trust him.
He doesn't do plumbing, electrics or plastering, BUT he knows and trusts people who do. Great, because I know no one.
He is awesome and project managed the whole thing for me (while I travelled around New Zealand with my one of my bestie's in a campervan<3).
Because my handyman and I have a good relationship, he didn't charge me extra for project managing. He made sure all costs were transparent and kept all the receipts for me. He also gave me frequent updates and sent WhatsApp pics.
When the sale completes I will be taking the team out for dinner and slipping him a card with a nice little gift in.
There is no way I could have done it without him and his kindness. All I did was  make decisions about kitchens and colour schemes. He took care of the rest.
Without further ado below are before and after pics plus costs.
The Kitchen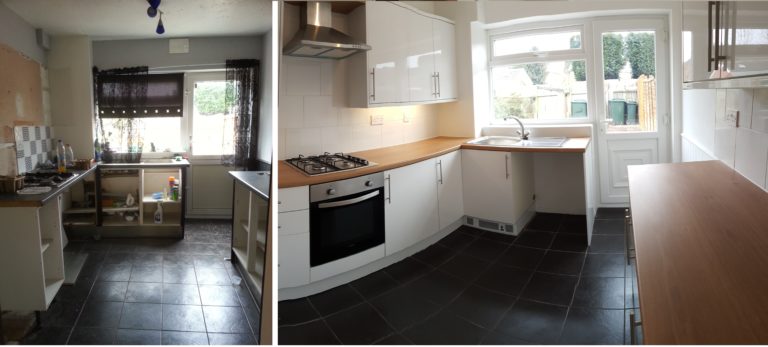 Schedule of works:
Strip out old kitchen carcass
Remove boxing at back left and change the soil pipe. Box back in
Remove back window, panel, and door
Replace back window, panel, and door
Rewire kitchen to match new Kitchen units
Fit light strips under cupboards
Re-plumb for kitchen sink and for washing machine unit
Paint
Fit new Howdens kitchen
Tile wall between the top and bottom kitchen units.
Kitchen Costs
(Electrics not included. I shall provide a more comprehensive spreadsheet for them later on)
| | |
| --- | --- |
| Parts: Howdens Kitchen | £1,700 |
| Labour (Fitting kitchen) | £500 |
| | |
| Parts: Tiles, adhesives, caulking, extra plumbing, panels, paint etc | £200 |
| Labour (Painting & Tiling) | £240 |
| | |
| Unforeseen costs: | |
| Additional labour (Due to Howdens measuring the kitchen incorrectly) | £300 |
| Additional labour for decorating (Due to Howden's mistake causing delays) | £240 |
| | |
| TOTAL | £3,180 |
Jemments (Jess' Comments)
I know I know. The black floor tiles look out of place and ugly next to the nice new kitchen, but they are in good condition. I spent 30 minutes twiddling my thumbs, deciding whether to keep them or not. The cost to remove and replace the floor tiles didn't make financial sense for this property. I don't believe it had an impact on the sale price for who I was targeting so I opted to save costs and keep them.
Had this been a flip in Knightsbridge, it would have been a different story.
Colour scheme: The guy at Howdens recommended I get cream coloured units because I was painting the kitchen white. However, Howdens messed this up as well as the measurements. What you see above is white walls with white gloss cupboards. Hence, a very very white kitchen.
We could have waited for Howdens to bring the cream cupboards, but time was of the essence, the delays from the measurement mix-up cost us an extra £540 and once the buyer adds colourful accessories in the kitchen the white won't look so glaring.
The mistake Howdens made set us back a few days and cost us £540 extra in man hours. It was ridiculous. Howdens did apologise and offer £100 in credit towards our next purchase, har har.
I thanked them for the offer and explained that their mistake had actually cost us £540. They stayed with the £100 credit offer. I would not accept this as their final offer. After I complained about the service we had received (one of the staff was really rude to my team when we explained the mistake) they offered to give us £135 towards the cost of the kitchen.
At this point, we hadn't paid for the kitchen yet because Howdens do a 30 days credit thing. Once the 30 days were up we started getting the payment notices. As the issue hadn't been resolved to a satisfactory level, I was a bit naughty and paid the total amount minus £540.
Howdens' account department called me several times. I explained the situation and they said they couldn't do anything, only the manager could.
So I called the manager but he was away on holiday.
I got calls from his assistants who I tried to negotiate with but they said contributing £135 towards the kitchen was the Manager's final offer.
"Bullshit." I thought. They messed up the measurements and they delivered the wrong coloured units. Both mistakes cost us £540 and they were rude to my project manager. They need to take some responsibility for that!
As the manager was on holiday and he was the only one I could negotiate with, I left it until he returned.
While he was away I got letters from Howdens threatening legal action and blah blah blah. I don't think it was serious. One of my business partners suggested we just pay. I said "No way! I don't care if it is just a few hundred quid, it's the principle. I understand mistakes happen and I'm not angry about that. It is the fact this established business is not taking responsibility for their mistakes, why should we pay for their mess ups!? Leave it with me." I was on a war path.
My business partner sighed and let me get on with it. Howdens were going to take responsibility and pay at least half the cost.
The manager finally returned from holiday 2 weeks later. We had a surprisingly pleasant chat. We both wanted to find a win-win solution that both parties felt was fair. I explained all the mistakes Howdens had made plus how much it cost us. I also empathised and said mistakes happen, I totally understand. I am not annoyed about that, but I do believe it is only fair that Howdens take responsibility for it.
The manager suggested paying half of the £540. Boom. Exactly what I wanted. I could have tried for the whole £540 but the time it would take to put together the arguments and argue it was not worth it. I was happy with this small win.
Moving on, I thought I would have to replace the window and back door individually but the back window and door came all together as a big panel. I didn't know that was a thing!
It is not the fanciest kitchen in the world, but it does the job. In the future, I would like to experiment with a bit more colour.
The Bathroom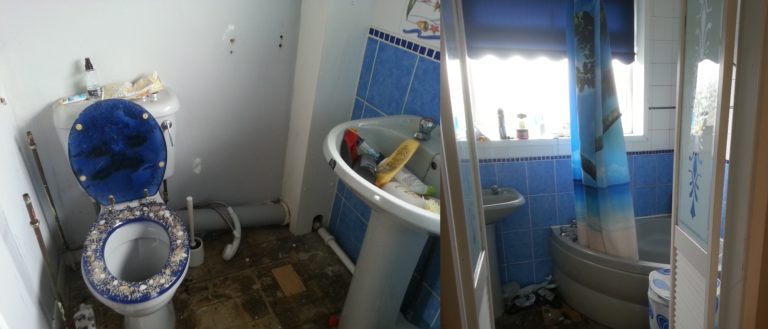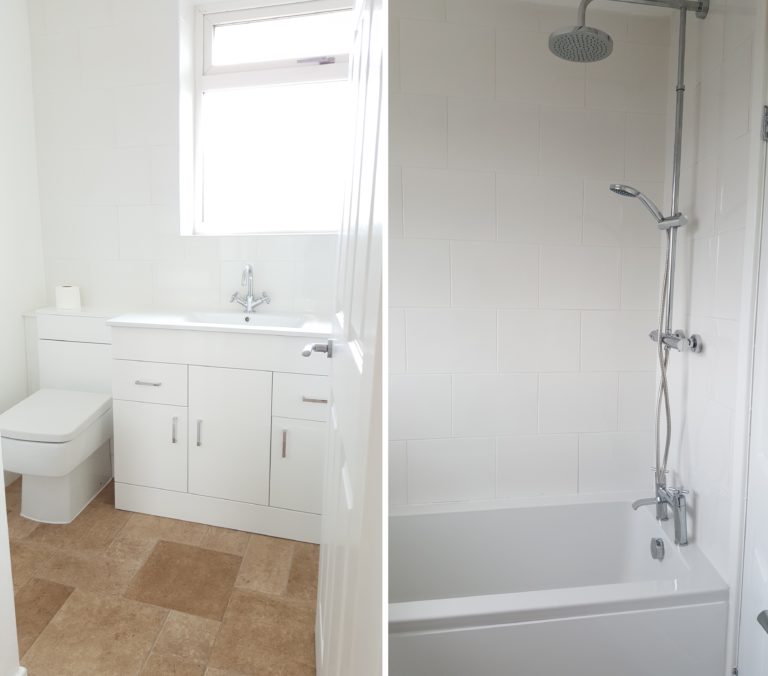 Brief schedule of works:
Strip out old bathroom
Remove tiles
Remove transparent wild west like doors – wtf (top right pic)
Move plumbing so I can move the position of the toilet to the back wall
Move plumbing so I can move the shower from the back wall to the front wall
Paint walls white with special bathroom, anti-mold paint
Install chrome towel heater (opposite toilet)
Install bath/shower suite and toilet/sink vanity unit
Tile walls around shower and sink
Put 6mm plywood down on the floor before fitting lino (this makes sure the lino is laid on an even surface).
Fit lino
Fit non-transparent bathroom door and lock
Costs
(Prices do not include the cost of strip out or lino)
| | |
| --- | --- |
| Parts: New soil pipe | £60 |
| Labour (Soil pipe fitting) | £60 |
| | |
| Parts: New bathroom suite | £540 |
| Labour (Fitting new bathroom suite) | £400 |
| | |
| Parts: Plain white bathroom tiles and adhesives etc | £132 |
| Labour (Painting and tiling) | £320 |
| | |
| Parts: Bathroom light | £29 |
| Parts: Chrome heated towel rail | £50 |
| Parts: Thermostatic shower fixed head solid bar (aka the shower heads) | £72 |
| Parts: 6mm ply for bathroom floor ready for lino | £10 |
| Parts: White bathroom paint and undercoating | £65 |
| | |
| TOTAL | £1723 |
Jemments
I LOVE this bathroom (the new one). My handyman chose the suite and suggested the flooring. I think it looks fresh, clean and cute. I am jealous of the shower head. I don't even have one that nice in my own home… maybe I should get one.
The vanity unit with the toilet and sink combo is more expensive than your standard toilet and sink basin. However, it looks great and also saves the hassle of putting up storage cupboards on the wall (I believe it was brought from bathrooms.com).
I don't think the vanity unit was a necessity to get the house sold, but as I kept the shitty black tiles in the kitchen I didn't mind splashing out on something nice in the bathroom. Would I do it again? Yes. We could afford to buy it with our budget so why not make the bathroom as nice as possible for the new buyer.
I believe the reason the previous owners had a corner bath is because a standard bath tub does not fit. To my relief, smaller bathtub sizes do exist. Yay!
I toyed with the idea of getting a really nice mirrored cabinet with lights, demisting technology and a shaving socket.
And when I say 'toyed' I mean being extremely tired and spending an unproductive 3 hours trawling, ebay, amazon, gumtree and all the 'sale' sections on bathroom websites looking for an attractive mirrored cabinet with all the fancy features that was £80 or less.
Fun fact, these don't exist for that price. If you want a nice mirrored cabinet with all the features like lights, and anti-mist or whatever it is called, be prepared to pay at least £200 or more.
In the end, there was too much choice and I couldn't  justify the cost. If I was flipping in a more expensive area I would get one installed.
The total cost of this bathroom including flooring and strip out was around the £1850 mark. I am happy with that price.
The Lounge & Dining Space


Brief schedule of works:
Remove archway and re-plaster that area
Remove french doors and replace with external french doors
Do the pipe work to install new radiators (costs included in plumbing)
Install additional electric sockets in each corner of the room for convenience to new buyer (costs included in electrics)
Cut off gas and block off fireplace
Paint walls white (costs included in cosmetic repair)
Recarpet (costs included in cosmetic repair)
Costs
| | |
| --- | --- |
| Parts: New external french doors | £1,900 |
| Labour & parts: Remove archway, re-plaster that area to make good, sort fireplace | £450 |
| | |
| TOTAL | £2,350 |
Jemments
From a hole to a home. The old French doors (with the netted curtain over them) were for in good condition but intended for internal use. They used to lead out into a conservatory. Unfortunately, in her rage, the ex-wife of the previous owner ripped out the conservatory…with her bare hands. This is both scary and impressive. Hats off to her.
This meant the old internal french doors had now become external french doors and had to withstand all sorts of weather conditions which they were not designed for. That's why we replaced them with stronger french doors designed for external use.
I decided to have all the walls painted white. I know. I am such a daredevil with colour.
I decided on white for three reasons:
I am too pussy to experiment with colour on my first flip
White makes it easy for the new buyer to paint the walls her colour of choice when she moves in.
If my builders ran out of paint while painting, they can go to any hardware store and get the exact same colour. White. None of this 'Almond white' or 'Milk white' shit. No. The colour is white. Pure white.
I did ask for spotlights in the lounge. I am not sure why this wasn't done. Maybe I changed my mind without realising? Being a female I do that sometimes.
If I did this again I would ensure spotlights were in the lounge and dining area. Why? Because it completely changes the feel of a room. Spotlights modernise a room, giving the impression of higher value.
Cosmetic repairs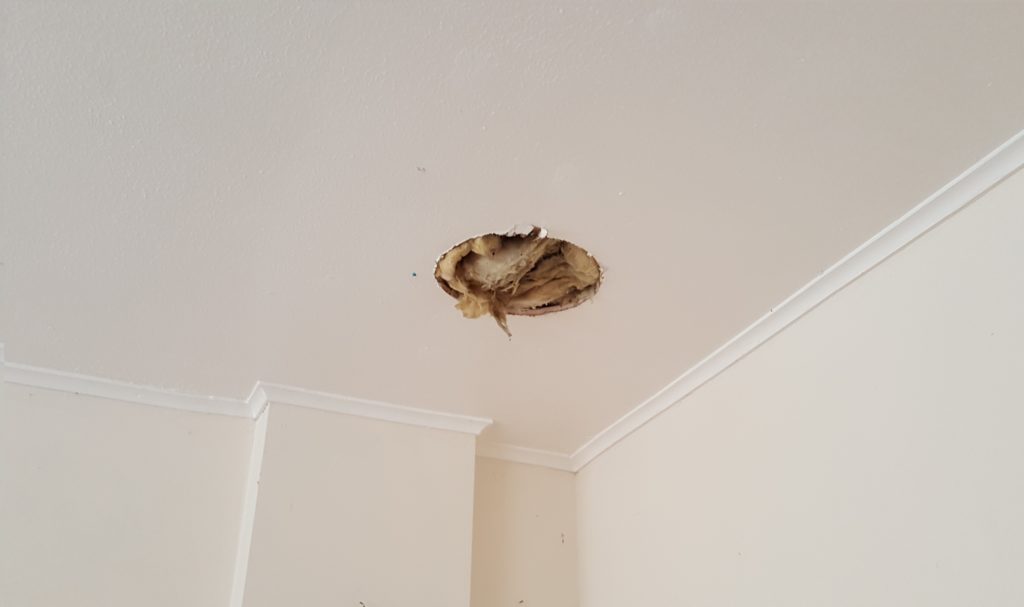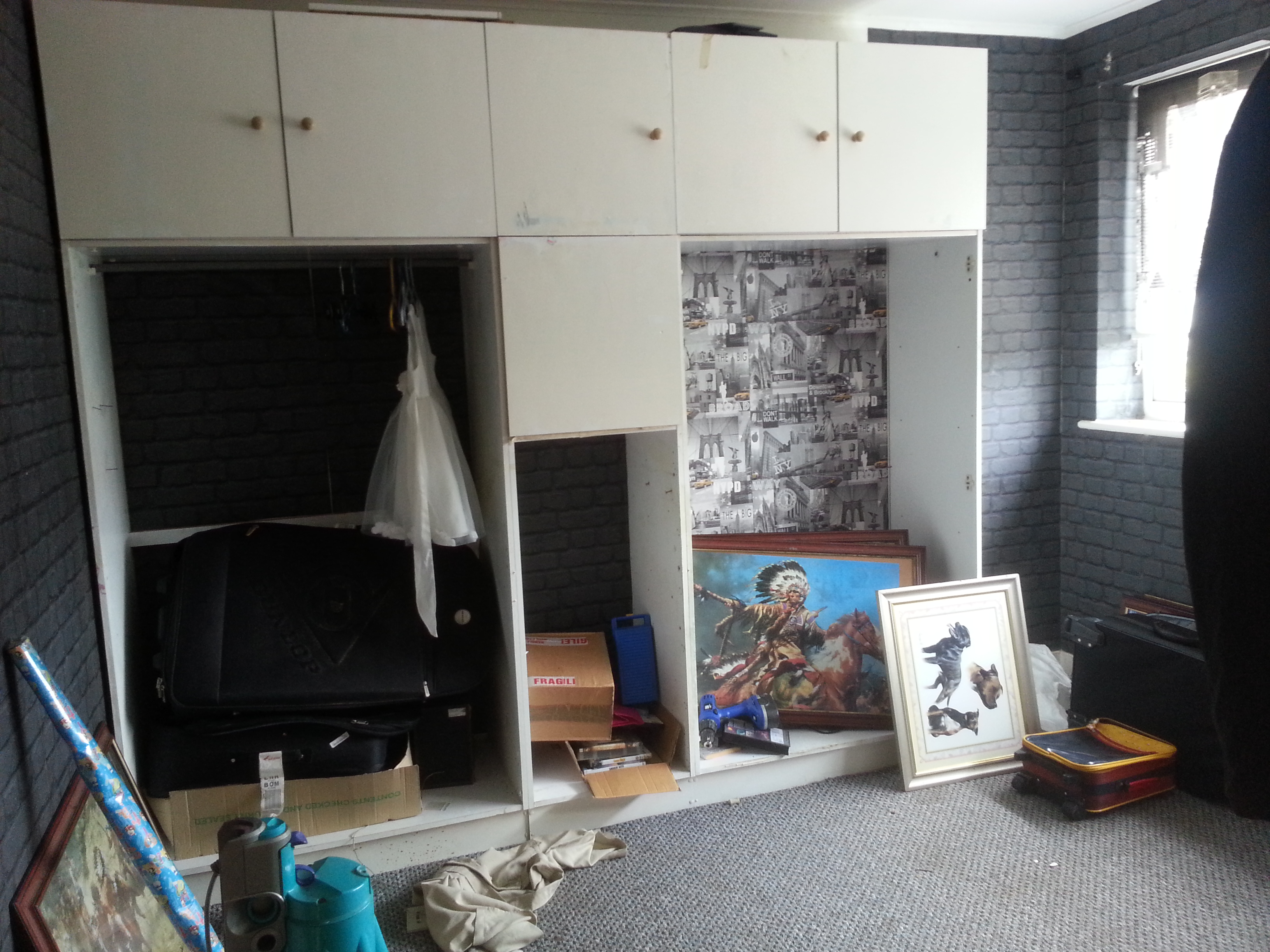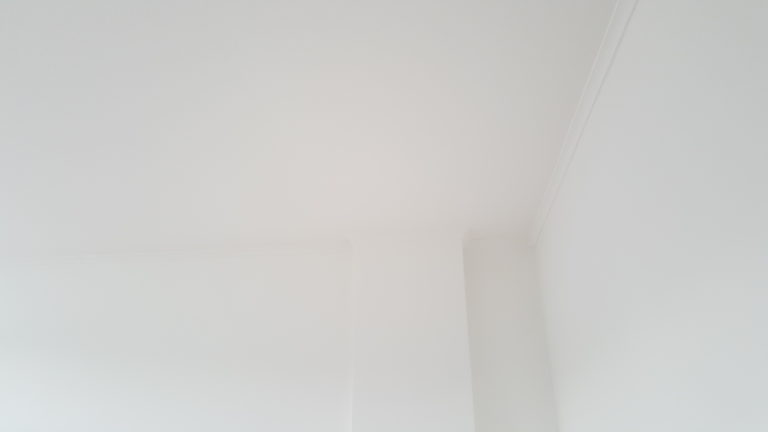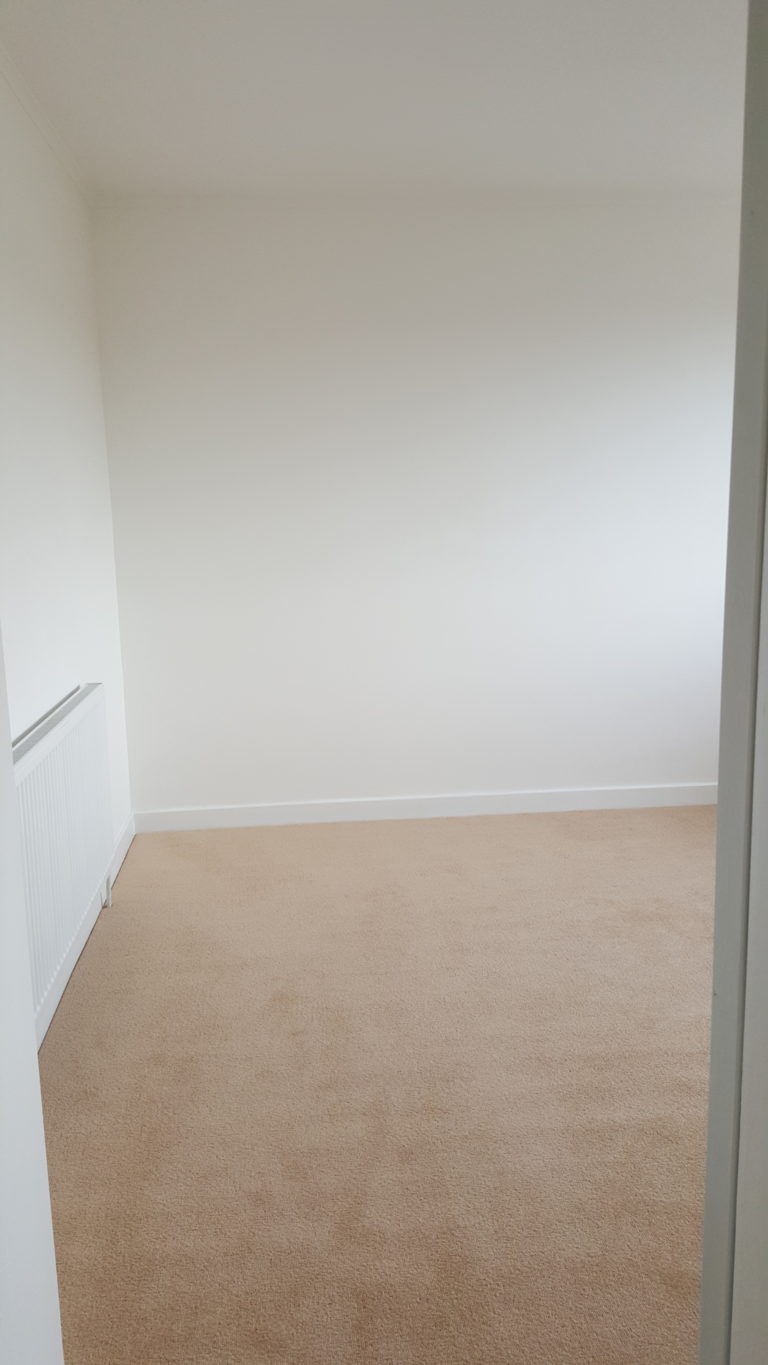 Here's the old staircase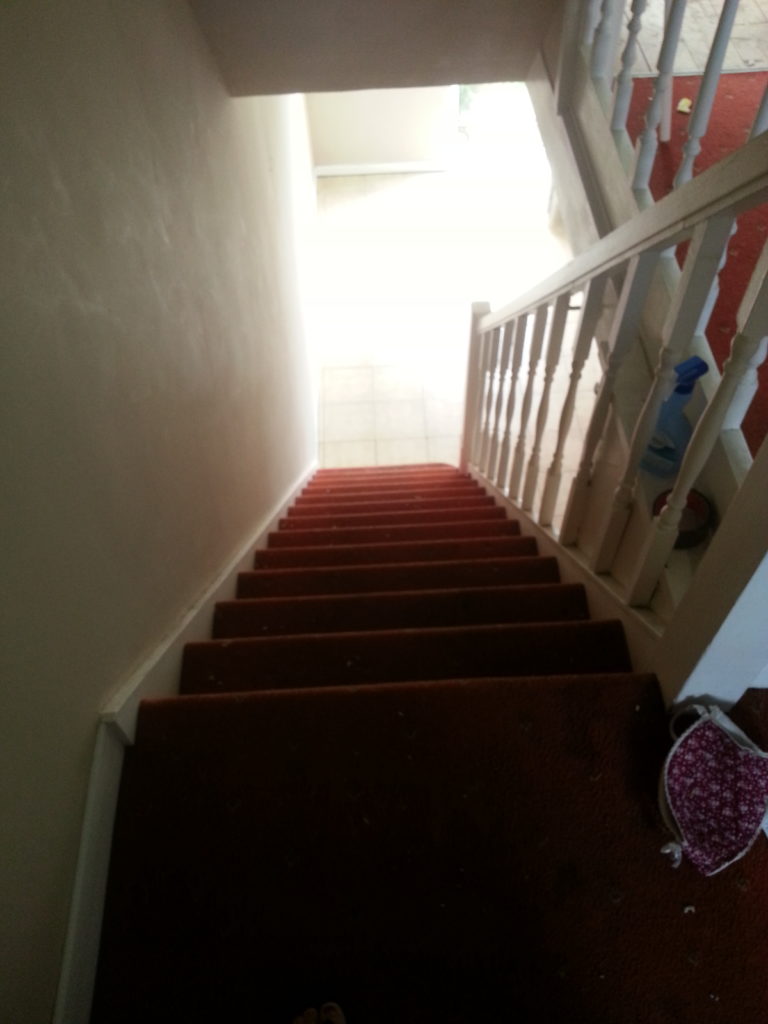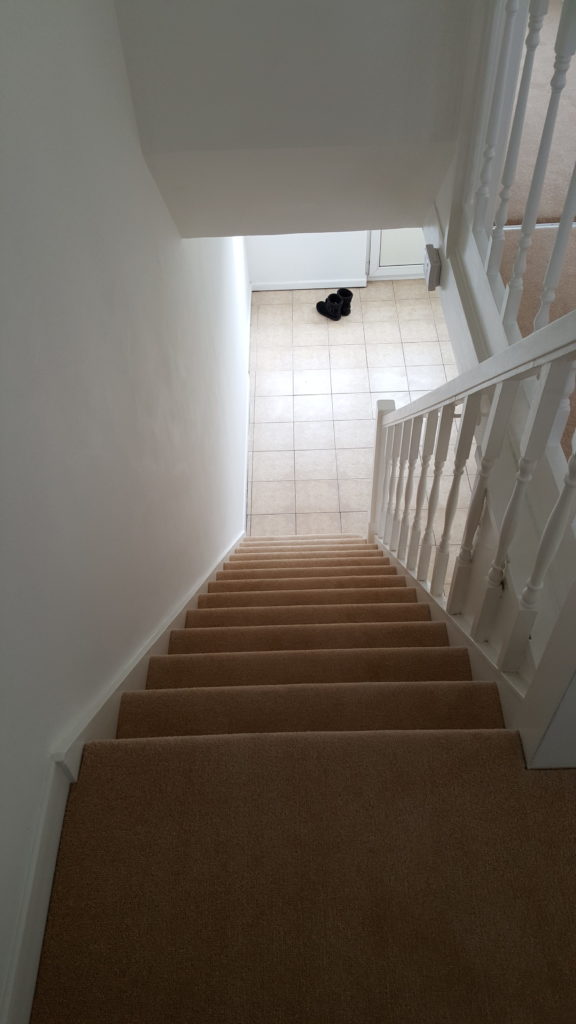 Schedule of works
Strip out everything
To remove all paper as necessary and prepare all walls, floors and ceilings
Repair holes in ceilings in bedrooms 1 and 2
Rub down all woodwork and prepare ready for undercoating
Caulk all areas as necessary
Paint walls and ceilings with white undercoat
Paint walls and ceilings with white emulsion (except kitchen & bathroom)
Apply gloss to woodwork
Recarpet lounge/dining room, the stairs and hallway and all three bedrooms
Costs
| | |
| --- | --- |
| Skip hire for 3 days | £480 |
| Labour (Strip house & put in skip, 4 man days @£70 per day) | £280 |
| | |
| Parts: Paint for the whole house + decorating materials to fix holes in bedroom | £300 |
| Labour (2 men x 9 days each @£100 per day) | £1,800 |
| | |
| Parts: Doors cost £17 each x 6 | £102 |
| Labour (Door fitting £35 per door) | £210 |
| | |
| Labour & parts to re-carpet house: Lounge/dining room, stairs, 3x bedrooms with underlay, plus lino for bathroom | £900 |
|   |   |
| TOTAL | £4,072 |
Jemments
What I have learned from other projects is:
Only get a skip when you have enough stuff to fill it. Otherwise, it will still get filled, just not with your stuff.
If you want to save costs and you have the time, fill the skip and do the painting yourself. If you are having an awesome time in a campervan in New Zealand, there is value in paying someone else to do it.
I think the doors were a good price for parts and labour but have nothing to compare it to.
The carpets and lino were from Carpetrite. I like Carpetrite. You choose what flooring you want in the shop, they come measure up, then they come and fit it. They take a lot of hassle out of sorting flooring.
Remember, everything is negotiable. I think the original quote was £1200 or something like that which I was not prepared to pay. To my memory, they don't do trade prices but they do sometimes do deals if you put a deposit down/negotiate hard.
Central Heating System
Schedule of works
Install new central heating system
Plumb in radiators (downstairs hallway, lounge, dining room, all three bedrooms)
Costs
| | |
| --- | --- |
| Parts: 5x radiators | £125 |
| Parts: Room thermostat remote | £68 |
| Parts & Labour: Install new central heating system | £2,270 |
| | |
| TOTAL | £2,463 |
Jemments
To be honest, I still have no clue what a central heating system looks like or consists of (other than radiators). All I knew is that the house needed one and that my handyman knew and trusted someone who could install it at a price fair.
What you should take from this is, if I can do it, you can DEFINITELY do it.
Garden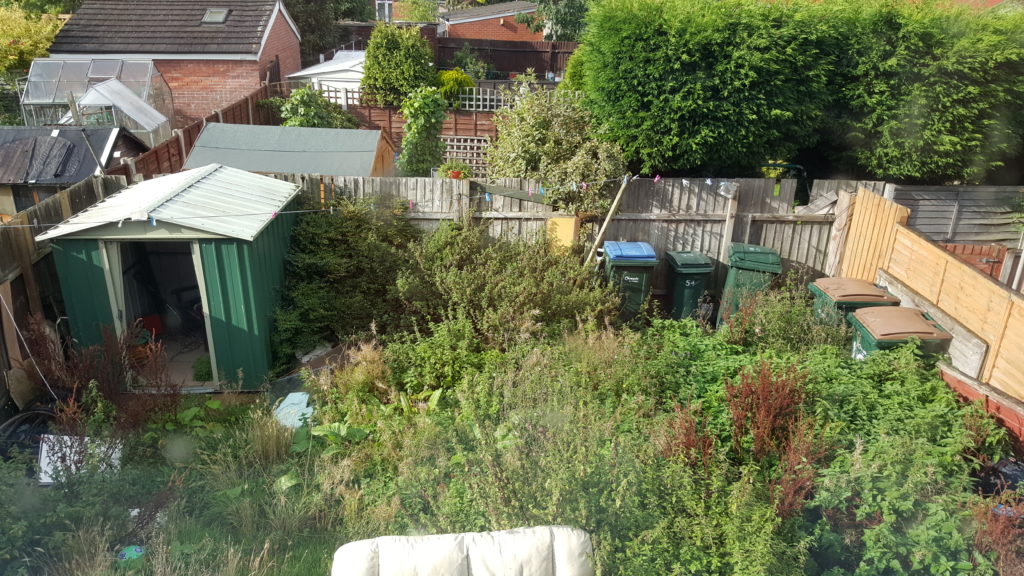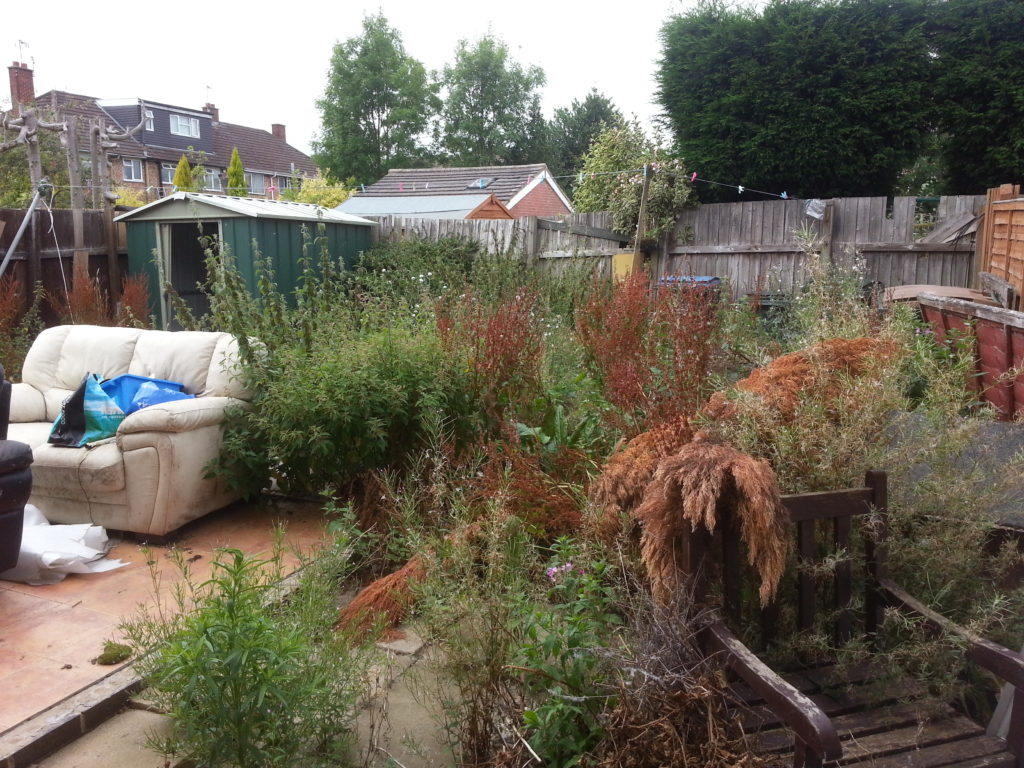 After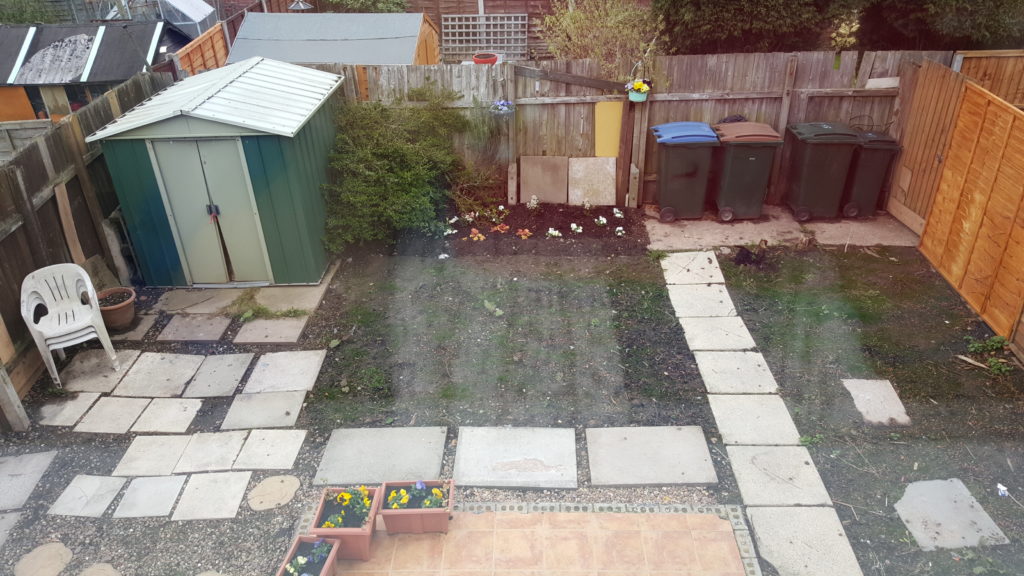 Jemments
Luckily, one of my business partners loves gardening. I gave her and her husband a strict frugal budget of £200 to sort out the aesthetics of the garden. Despite going a whole £3 over budget 😉 I think they did a pretty awesome job.
The garden was the last thing we did. During the renovation, we used the garden as a dumping ground then wheeled the junk to the skip from the back gate (far right-hand side corner). There was no point in trimming the bush and making good until we had finished our dump.
Schedule of works
Trim bush
Clear crap
Make as attractive as possible
Replace missing fence panel
Fix fascias
Clear gutters
Replace soffit and paint
Costs
| | |
| --- | --- |
| Skip hire for 1 day | £160 |
| Parts: Flowers to make garden look pretty | £43 |
| Labour | £0 |
| | |
| Parts: Fence panel, concrete to fix it in | £70 |
| Labour (Fix fence panel) | £80 |
| | |
| Parts: To fix fascias, gutters  and soffit replacement | £400 |
| Parts: Paint for exterior wood black and white | £33 |
| Labour (Fix gutters and paint fascias) | £250 |
| | |
| TOTAL | £1,033 |
So there you have it! The total costs for my first flip, I hope that you've found this breakdown useful. If you have any questions, feel free to ask them in the comments section OR head over to our Facebook community where you can meet and connect with over 500 other entrepreneurs and property investors.
If you liked/enjoyed/found useful this article, I've written a lot more (here are some of my favourites):